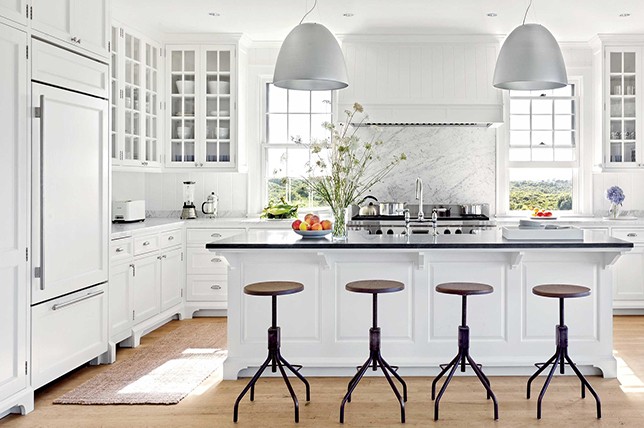 As you can imagine, a kitchen remodel ideas can be perplexing as you may not know where to begin, or how to chart the best course of action. So before you set about planning the initial stages of a complete kitchen renovation, it's essential to know exactly where to start, and how much of a budget you have to work with as a kitchen remodel is a costly investment that can pay off when reselling – if done well.
To start, ask yourself what your goals are, what's missing from your current kitchen design, and what you'd like to see go?
For avid cooks, seasoned hosts, and busy families, your kitchen is probably the center of your daily life—and a place where both form and function are of the utmost importance. For wisdom on how to master a kitchen remodel, we've compiled everything you need to know about renovating your kitchen for the ultimate of life-enhancing upgrades, from sourcing the right contractor to choosing backsplash tiles and hardware. We tapped our interior design and renovation experts for their takes on the best practices and discovered the best kitchen remodel ideas, and gathered our favorite decor ideas from innovative appliances to budget-friendly islands and charming breakfast nooks. Our renovation guide has you covered, whether you're planning a complete kitchen remodel, or are simply on the lookout for new updated appliances, or are in need of inspiration for your dream kitchen remodel.
To get you started on bringing your kitchen remodel ideas to life, we're looking at the top kitchen decor and renovation trends for 2019 culled from a survey of our decorator's wisdom. From the best in updated kitchen furniture, to what to skip out on, here's everything you need to know to recreate the heart of your home with confidence and ease.
COUNTERTOPS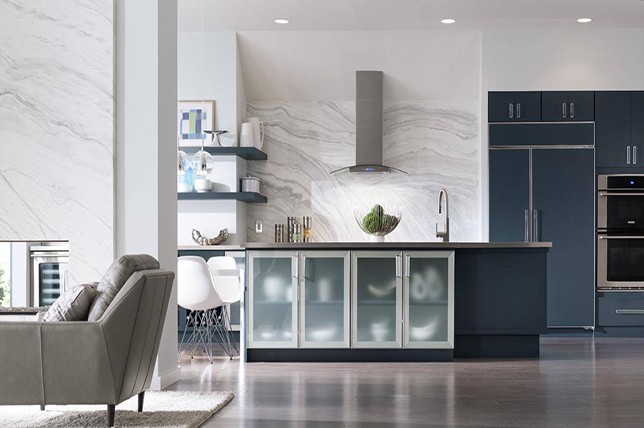 Though we've seen our fair share of various countertop materials come and go, the popularity of brilliant quartz finishes continues to have no end in sight as it remains one of our client's most frequently requested materials, and for good reason.
And besides a great timeless look, quartz is virtually indestructible as it produces a harder surface – just be sure to avoid excessive heat as hot pots can damage the material easily.
NO MORE GRANITE?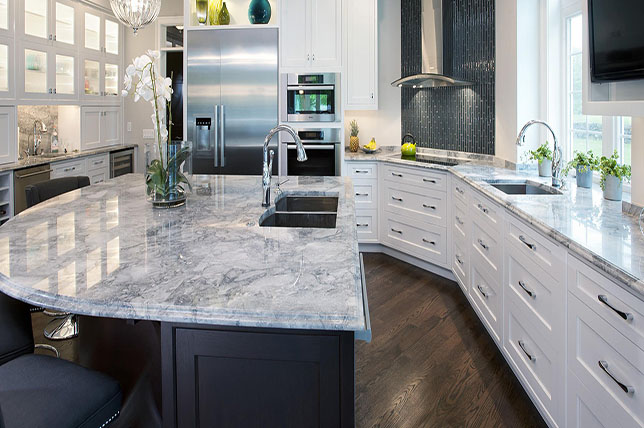 A mainstay of the 1990's and early 2000's, we're happy to report that granite continues to dwindle in popularity as it tends to date kitchen decor while making it appear a tad ordinary.
Plus granite is super porous and could collect bacteria if not properly taken care of.
WHITE KITCHENS ARE OVER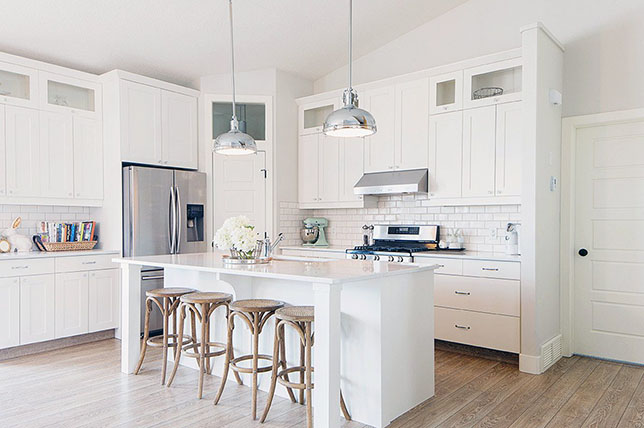 While there's no denying the timeless appeal of an ultra-bright white kitchen, there are plenty of fantastic alternatives to take in for a more rich and intoxicating look.
And it should go without saying that all white kitchens are much harder to keep clean on a daily basis, so why not consider bringing in some distinctive hues to create a more memorable kitchen.
SET A MOODIER TONE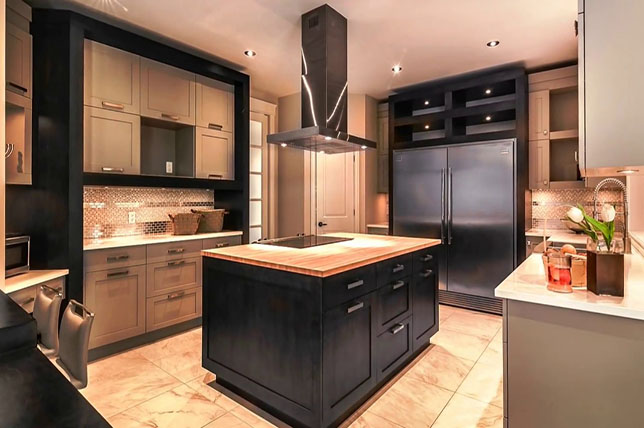 Instead of bright optic white, consider setting a moodier tone in your kitchen with alluring and unexpected color to create a more rich and nuanced look.
From night watch, 2019's dark and dramatic green tinged color of the year to earthier terracotta or even more vibrant tones, do consider adding a sense of elevated energy with colors that evoke emotion and a positive spirit.
MATTE EVERYTHING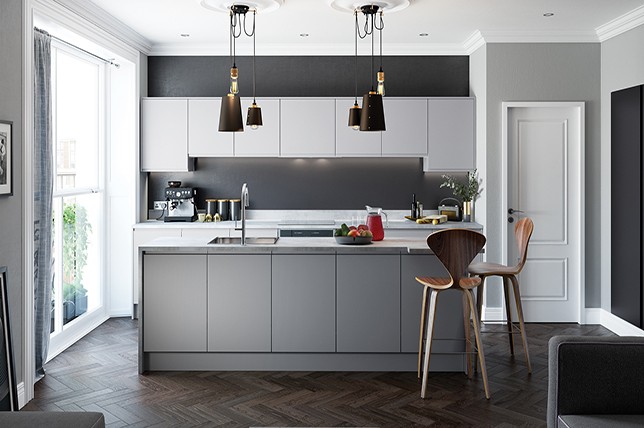 Who doesn't love the slick touch of matte finishes? And lucky for you, we've noticed showrooms chock full of matte cabinetry and appliances that while attractive, are ultimately much easier to keep clean and are certain to not go out of style anytime soon thanks to their forever-cool allure.
DARK KITCHENS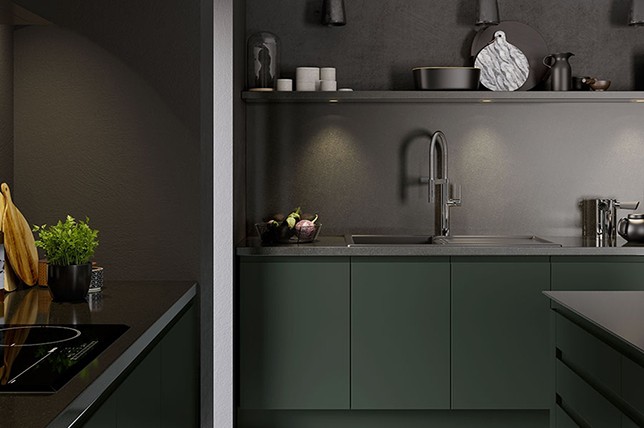 The antithesis to the tendency to go for all-white kitchens, black and moodier hued kitchen design ideas are sure to quickly add an elegant sense of drama to any home, are easier to manage, and are an elegant alternative to standard ivories.
GRID MOTIFS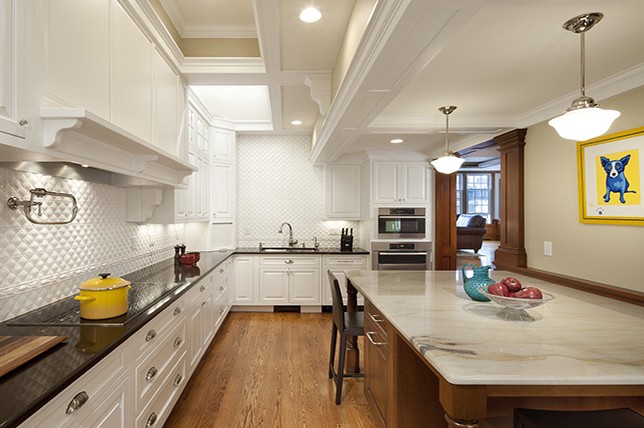 As the times call for clean, symmetrical straight lines, we're seeing grid motifs used as a lite nod to industrial styling everywhere in contrasting black for windows, doors, and cabinet legs.
SPANISH AND MOROCCAN TILES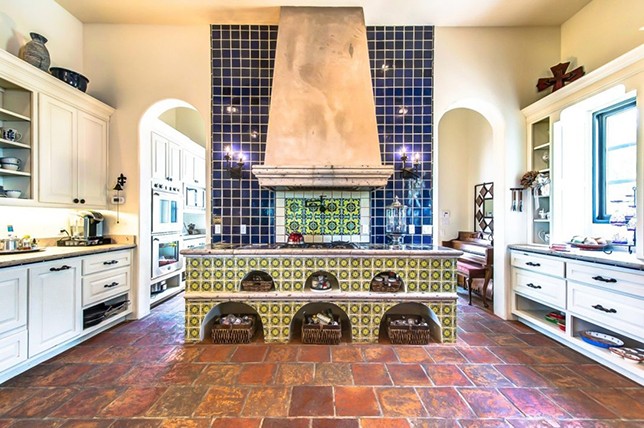 Add an exotic note to your kitchen decor with intricately patterned Spanish and Moroccan inspired tiles and backsplashes for a much more substantial visual impact than say now common subway tiles.
MIX AND MATCH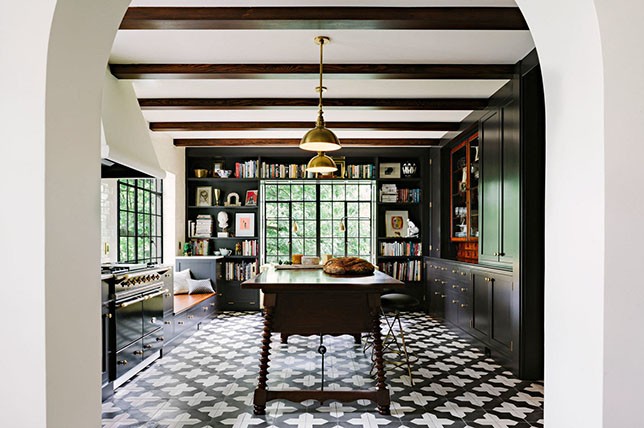 Be bold with unexpected juxtapositions from cabinets to flooring to create a memorable, personalized mix exclusive to your home that won't keep you trapped in one definitive design direction.
Instead, explore expressive kitchen furniture with the freedom to experiment while adding a sense of play throughout.
THE END OF STAINLESS STEEL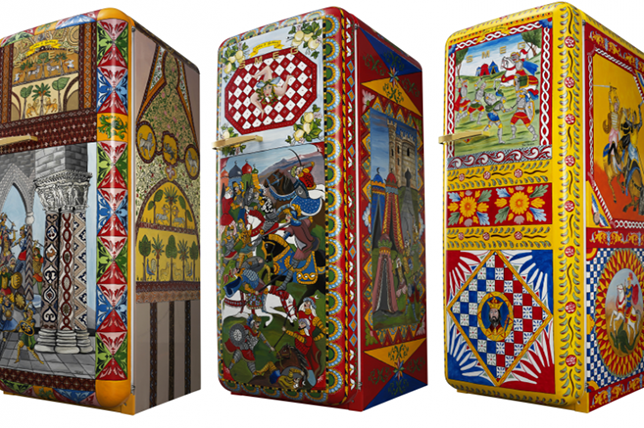 Like any good interior design trend, there's a point where you've seen décor elements all too frequently, everywhere.
So bid stainless steel appliances, fixtures, and finishes adieu and go for pieces that are more simple in standard neutral tones or go wild with colorful and patterned elements for the ultimate in conversation starting statements.
BRIGHT STOVES AND HOODS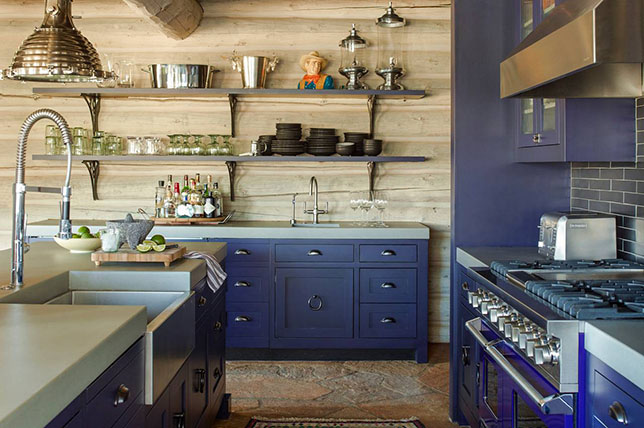 Though ranges and hoods can be substantial investments, our interior designers continue to opt for finds in surprising shades from cool and calming pastels to primary hues.
EMBRACE HYGGE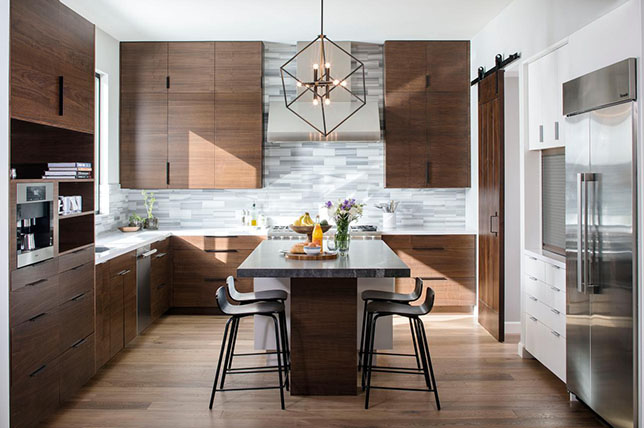 In a kitchen, less truly can mean more as the slightest upgrades can add more space for prep time and storage solutions.
Stick with the concept of Hygge and be sure that surfaces are clutter-free, and think about alternatives for your upper cabinets from shelves to art – you name it.
MINIMAL MINDFULNESS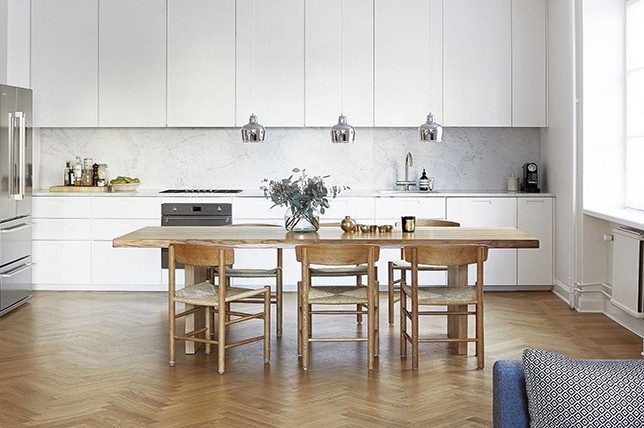 For a modern contemporary home, consider updating your kitchen with clean-lined cabinetry and eliminate molding and heavy finishes and go for timeless straight lines to echo the pared back vibe throughout your decidedly minimal home.
UNDERCOUNTER APPLIANCES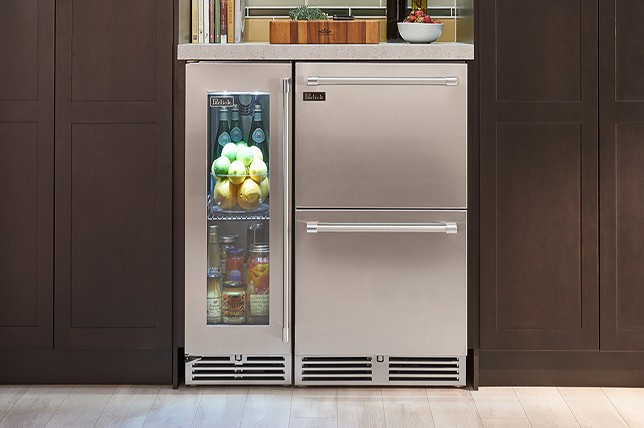 As kitchen design ideas of 2019 call for clearing spots above lower cabinetry, opt for under the counter appliances like microwaves and the ilk to keep them out of sight as upper spots become more vacant.
GLASS CEILING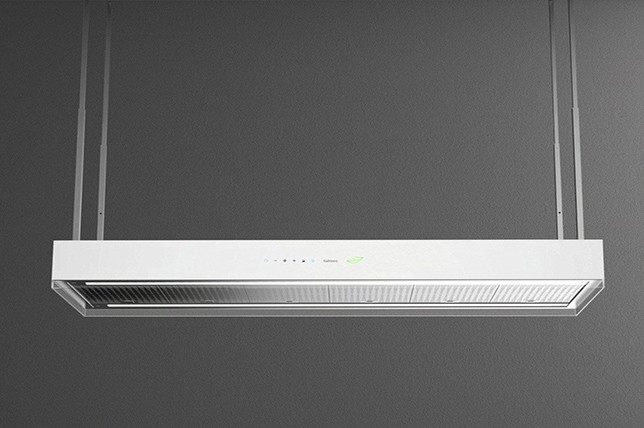 Super cool and minimal to boot, Falmec's Alba hood is probably one of the most innovative kitchen decor updates we've come across in ages.
Slim, sleek, and easy to conceal, it makes for a great alternative to bulky prominent hoods.
CONCRETE FINISHES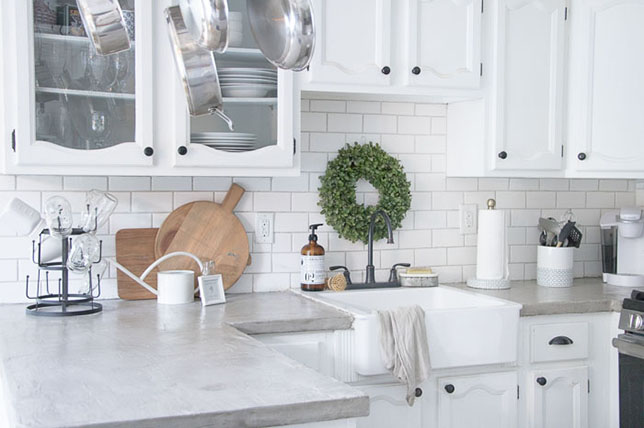 Keeping with minimal kitchen design themes of late, we've seen our fair share of concrete backsplashes, countertops, and flooring as they're great options for a budget-friendly kitchen and instantly lend the room modern yet industrial notes.
TALL COLUMN FRIDGES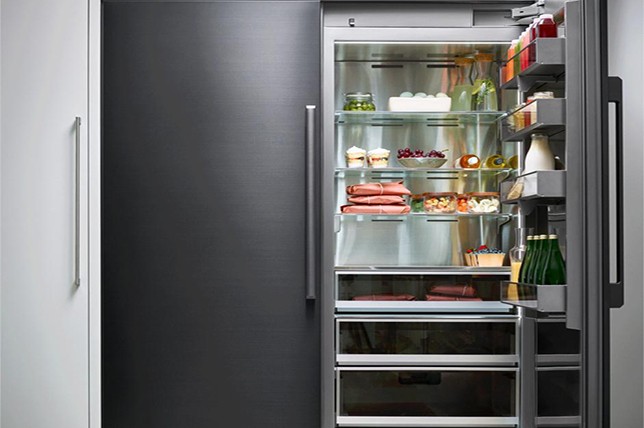 Though you may not be in the market for a new fridge, there's something refreshing about the more vertically extended options of late as they take up less floor space and lend a kitchen more visual impact than a standard height one ever could.
TERRAZZO SURFACES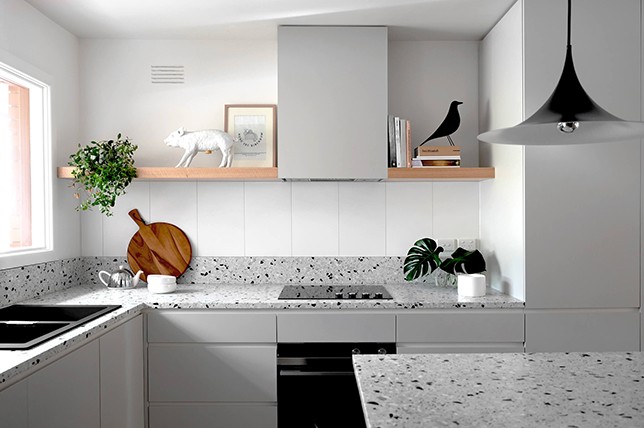 Popular in the 50's and 60's and revived in the 1980's, Terrazzo surfaces are back on trend as Mid-Century Modern interior design continues to be the most sought-after design style of them all.
Plus, Terrazzo surfaces will lend a playful punch to even the most stripped down of kitchens.
SMART KITCHEN IDEAS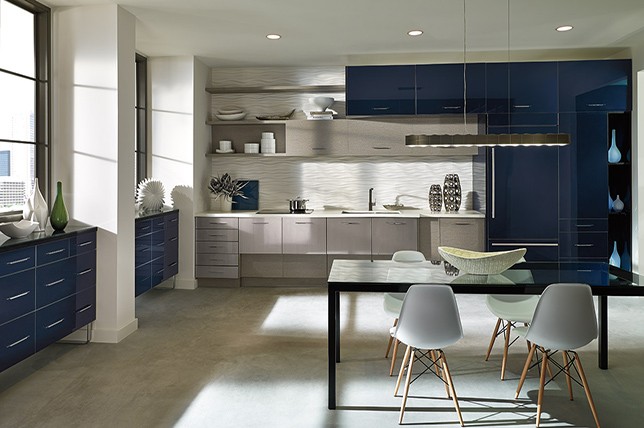 As technological advances continue to enhance our daily lives, it comes as no surprise that the movement finally made its way into our kitchens.
From remote light controls to smart screen display fridges, there are plenty of genius updates to take advantage of for the best in kitchen design ideas.
GOLD AND BLACK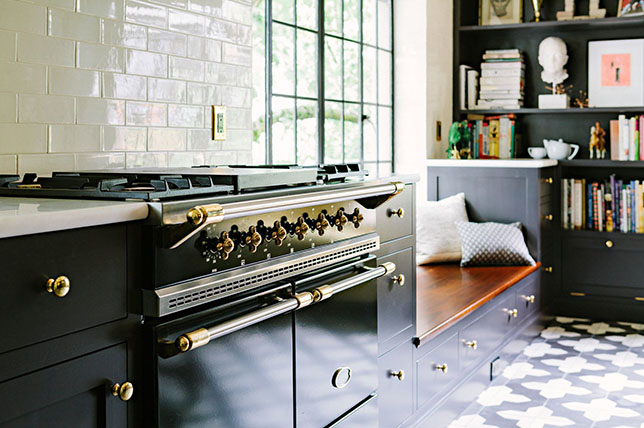 Timeless in appeal and sure to add easy elegance to any kitchen, black cabinetry and appliances finished with either gold or copper accents and hardware makes for a grand gesture in any kitchen.
GLASS SHELVING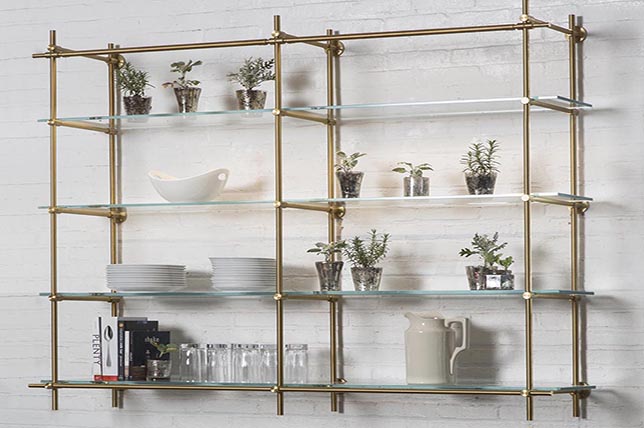 A sophisticated alternative to bulky wooden open shelving, glass shelves are easier to clean, let light in, and look more luxurious than unfinished wooden ones.
INDUCTION COOKING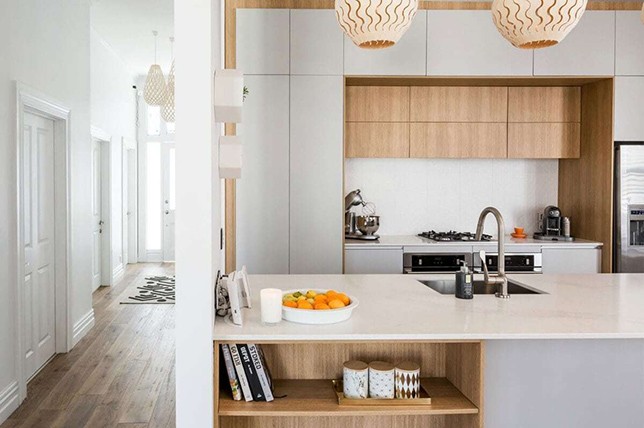 Fast, safe, and aesthetically pleasing, induction burners utilize less heat with even the smallest of kitchens keeping cool while cooking while surfaces remain safe to touch.
Plus, these smart cooktops eliminate the need for an obtrusive range hood, clearing the way for endless creative design possibilities.
SINGLE LEVEL ISLANDS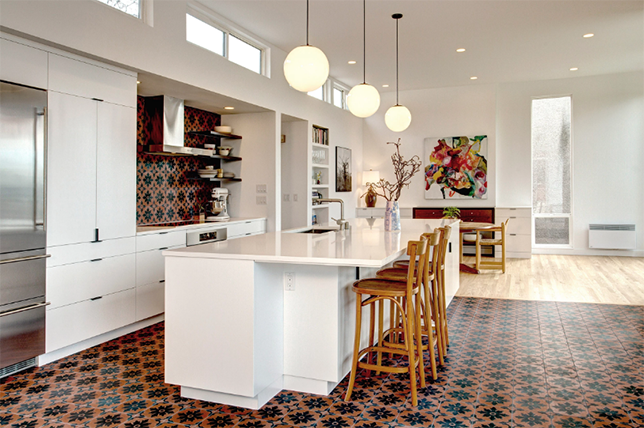 Compared to their multidimensional counterpoints, single level islands don't block light, increase prep space, and create an unobstructed conversation and dining area.
DEEP DRAWERS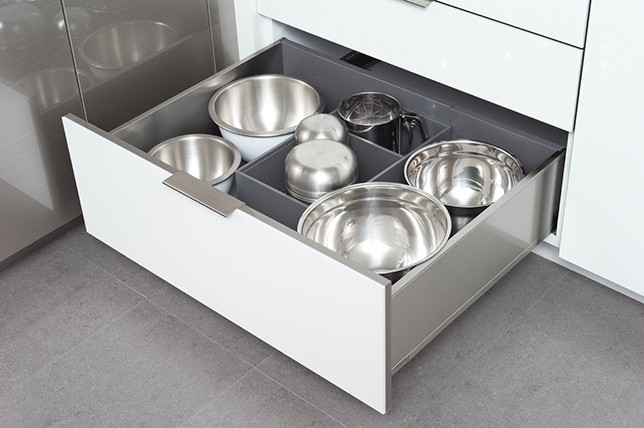 By sourcing deeper than average drawers you'll make cooking and storage all the easier especially when they are placed in high traffic cooking areas like next to your range.
UNIQUE SINKS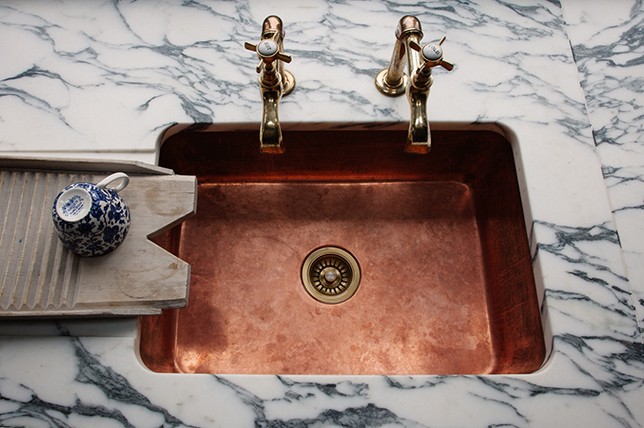 Say goodbye to all too common farmhouse sinks and say hello to unique statement-making options that boast intricate designs, unexpected scales and materials, and stunning ornate fixtures for everyday opulence in this most used room.
NATURAL TOUCHES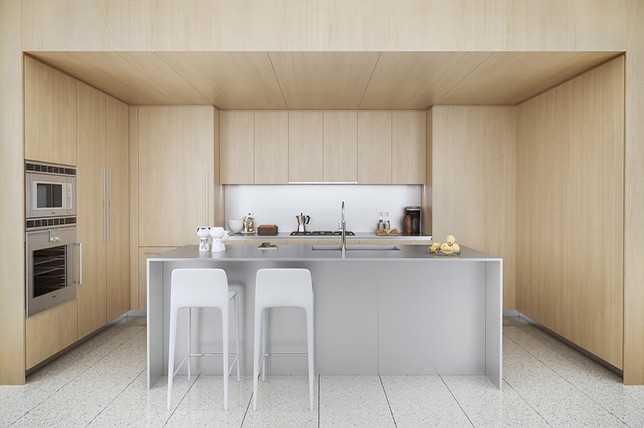 And no, by that we aren't calling for farmhouse related finishes and features for your kitchen decor.
Instead, bring in touches of the abstract, unfinished, and natural in small doses for hints of semi-rustic, industrial notes.
ADD DRAMA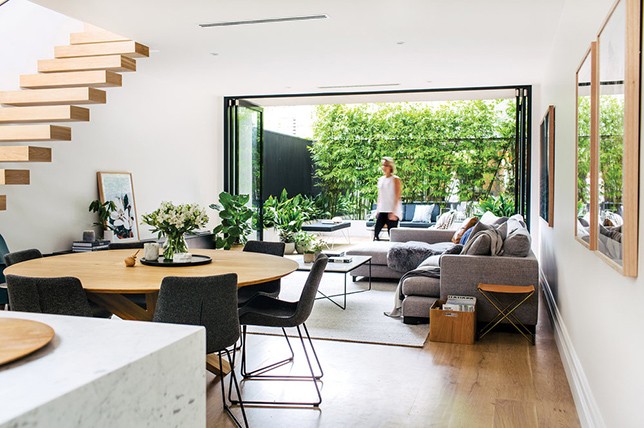 Think about striking ways you can add unexpected elements in your updated kitchen such as arresting lighting fixtures, decorative add-ons, and surprising finishes and hues to make your kitchen decor unique to your home.
COVERED KITCHEN SINKS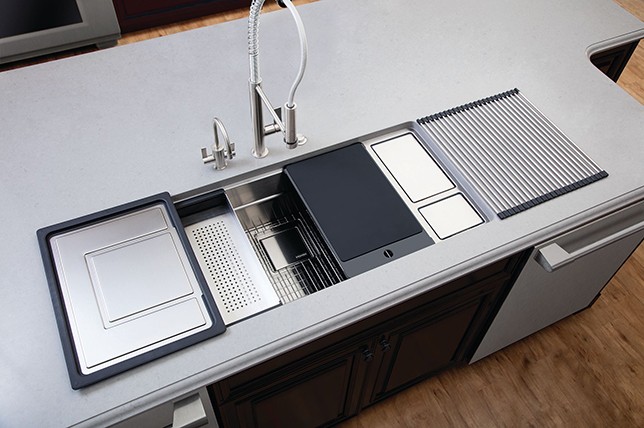 Great for cleverly adding more prep and counter space instantly, sliding covered sinks also boast the double-duty benefit of concealing a sink full of dishes waiting to be cleaned.
TWO TONE CABINETS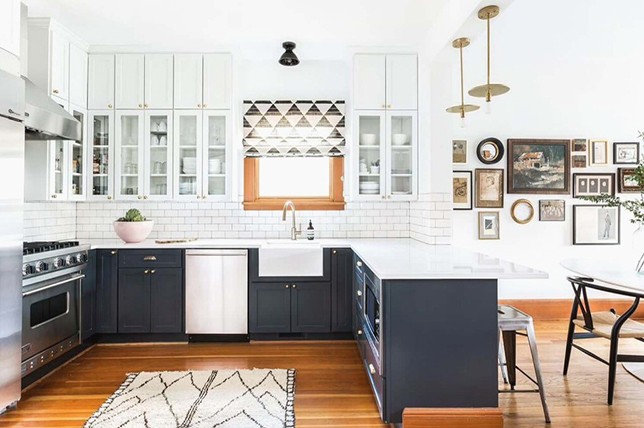 Again with the purposely mismatched kitchen decor trend, consider using two complementary tones for walls and cabinets to surprise the eye with an instantly cool look.
BANQUETTE SEATING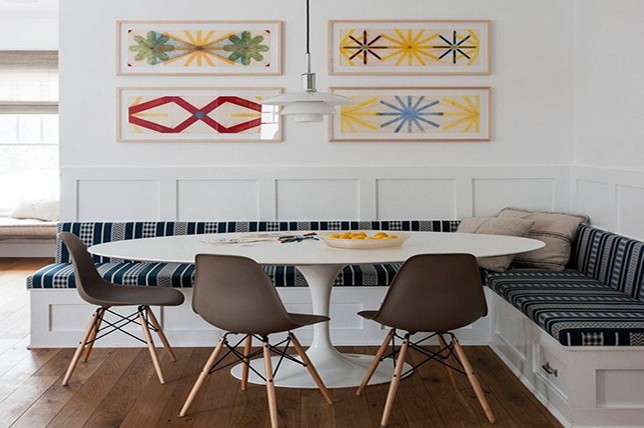 Increasingly popular, customized banquette seating is a great way to bring family and friends together in this most commonly used room while giving your kitchen furniture a unique feature that could also increase the value of your home.
MIXED METALS AND FINISHES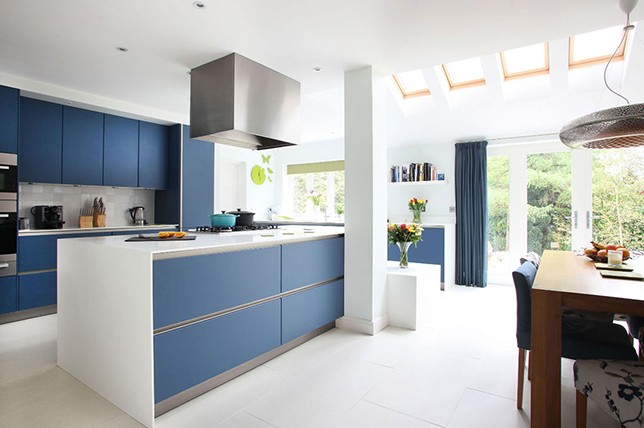 For an off-kilter layered look that's still rich and layered, combine different metals such as copper hardware, brass fixtures, and silver finishes for a more laid back however elegant statement.
STATEMENT FLOORING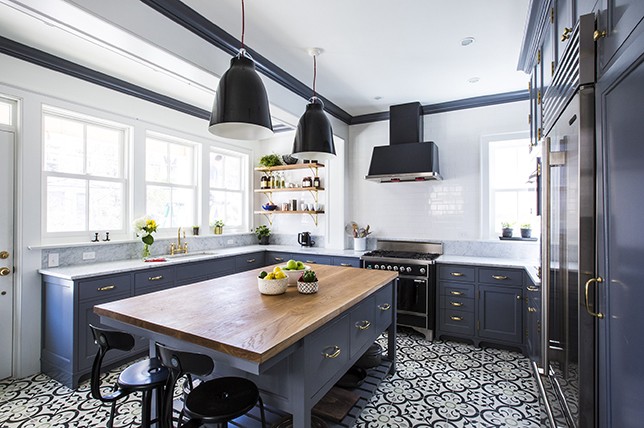 Add life to your kitchen decor with striking patterned flooring and rugs that'll add a dynamic visual punch compared to a basic wooden or tiled floor.
TRADITIONAL ENGLISH KITCHEN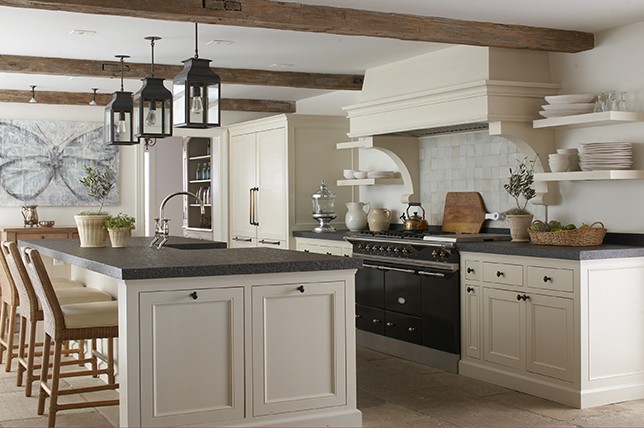 For a romantic take on kitchen design ideas, think idyllic English countryside kitchens and get the look with simple paint colors, planer materials, a strict focus on function, and paying attention to detail is good here – just don't overdo it.
KITCHEN ISLAND STORAGE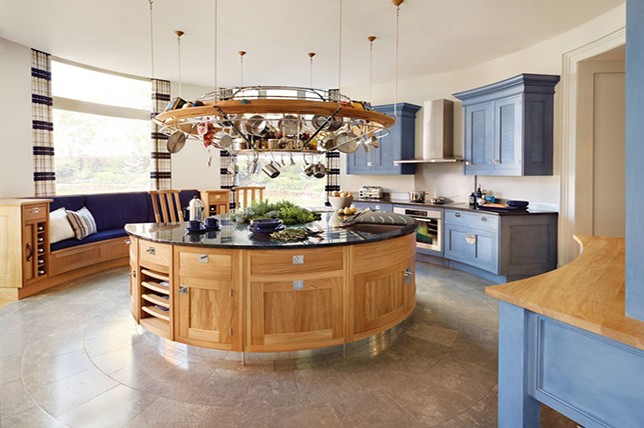 With storage and function key concerns in any kitchen, take advantage of that space under your kitchen island design and think of clever hacks to make the most use of the space to better serve your needs.
INSTANT TABLE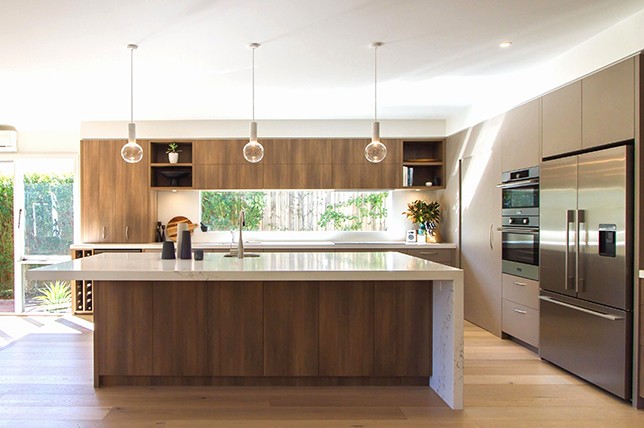 By extending your countertop over the edge of your kitchen island, you'll easily add extra space for seating more guests while eliminating the need for a table if you are short on space.
STATEMENT STOOLS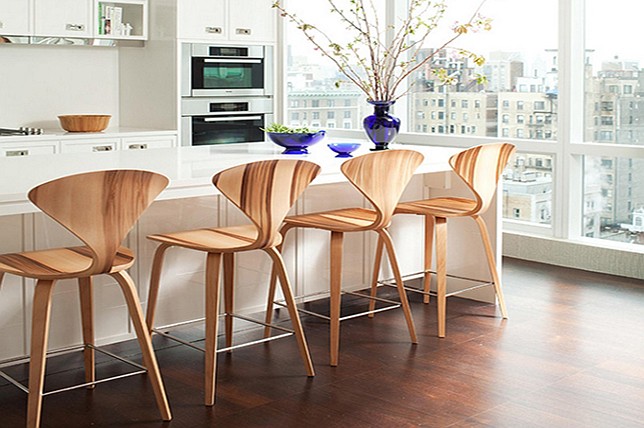 We've seen some terrific updates to stool styling to consider from mid-century-modern beauties to Hollywood Regency styles full of personality and everyday glamor.
EYE-CATCHING PENDANT LIGHTS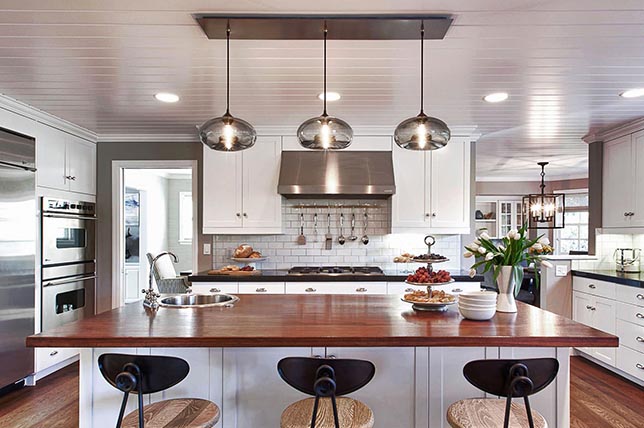 Make a statement with a conversation starting set of pendant lights as they're perfect for adding ample lighting to wide open spaces.
COLORFUL GROUT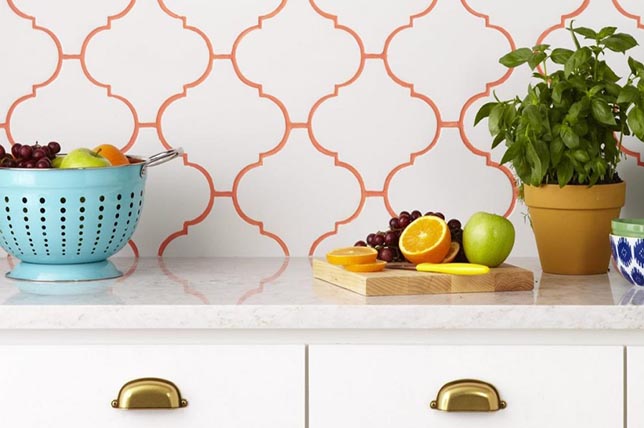 Go for the unexpected and select a distinct color for grout work as it'll lend your kitchen decor a graphic kick and hints of needed color.
HIGH-GLOSS CABINETS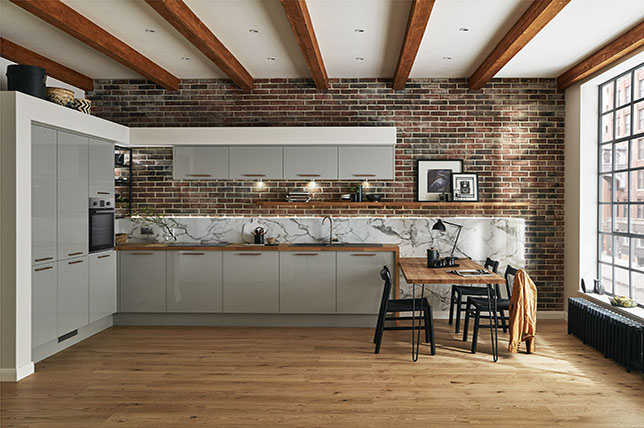 Because they look great, think of high-shine cabinetry as slick as the painted surface of a car or nail polish as a go-to option for a hyper-sophisticated kitchen.
KEEP WELLNESS IN MIND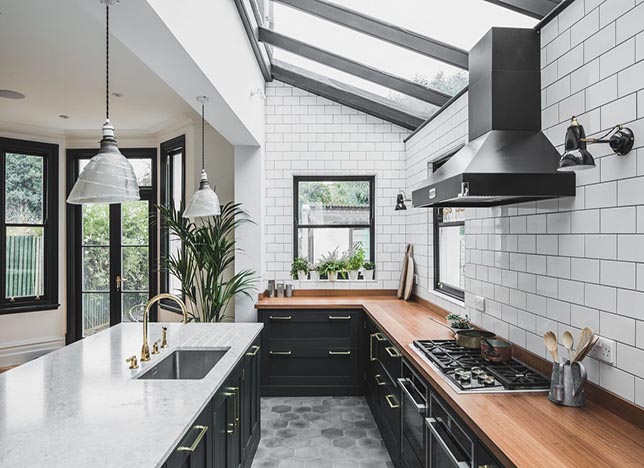 For an overall feeling of wellness, keep things comfortable, bring in small plants and design elements from nature.
And skip out on chemical products and opt for natural and organic ones instead.
DECLUTTER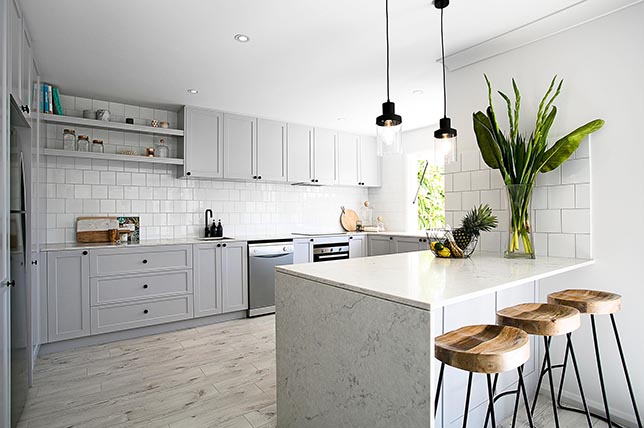 Keep countertops clear of accessories and appliances for a clean, quiet look.
WOODEN COUNTERS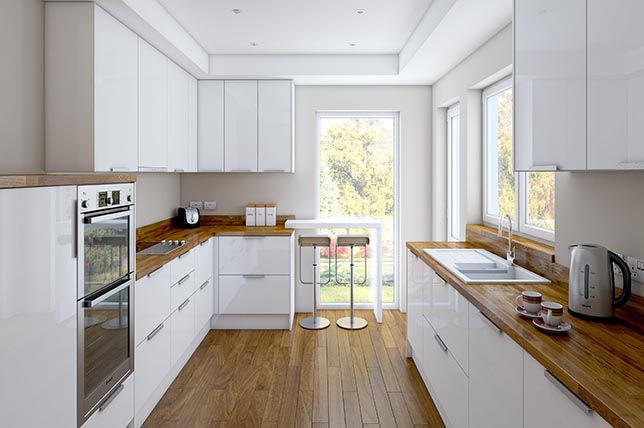 Though they require more care and have a shorter lifespan, wooden counters are an effective way to add warmth and character in any kitchen.
RUSTIC AND MODERN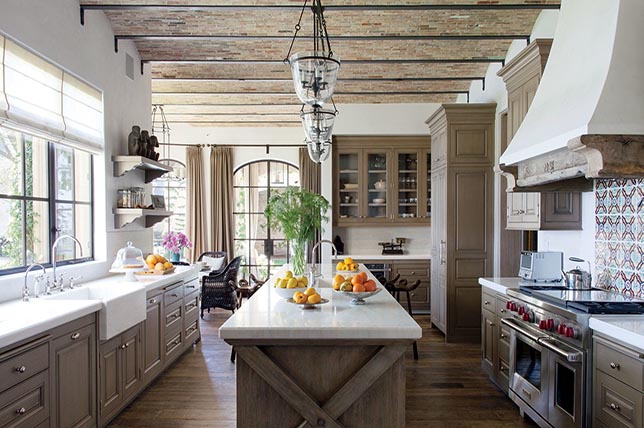 By combining the two design styles you'll easily create a rich and nuanced look in your kitchen that will be unique to your home.